(CLOSE)
Opening a Can of Worms
24 August 2021
Xen Nhà
In the midst of the pandemic, there is little that feels surprising anymore. Not even a 6th, 7th, 8th?! lockdown. Yet as Liquid Architecture's Debris Facility noted, 'a can of worms has been opened'. Like the way acupuncture targets a pressure point to release built up tension and encourage the flow of qi. Sometimes after an acupuncture session we feel tired; we need to rest and restore energy before moving on. But the days following are often accompanied by a surge of energy unlike before.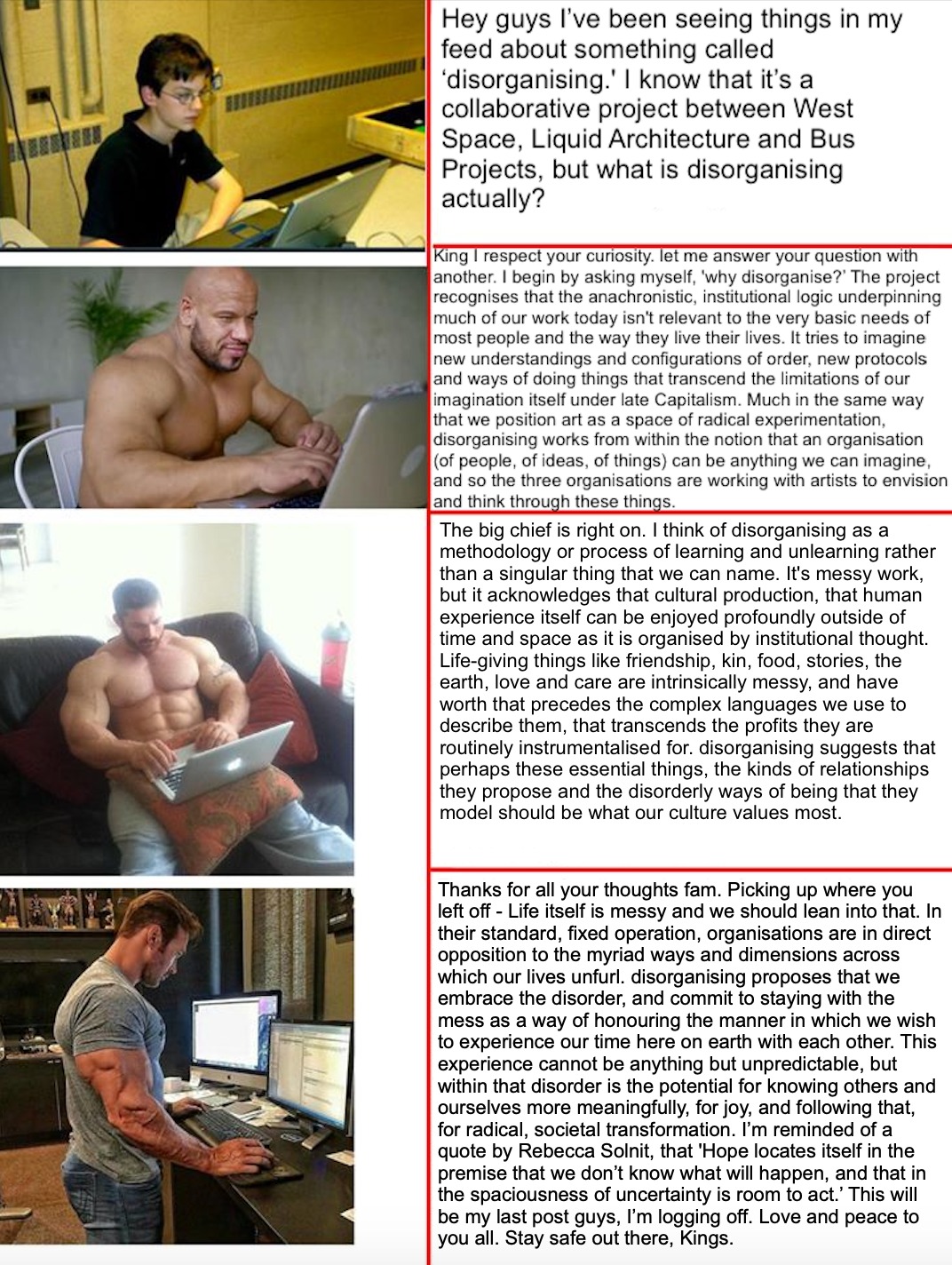 This energy is like a blooming cactus flower that rises from the soil after it has had time to rest, been fed compost, and just enough rain has trickled deep into the roots of the system. Or like the caterpillars that feed at night before undergoing a state of metamorphosis to become a butterfly.
During a long dry summer we pray for the relief of rain, but we forget the magic of trickling water through our system. As we recently shifted from Warin season (highest rainfall, funghi, moths) to Guling season (wattle trees, sunnier days, caterpillars feeding at night), where will the excess rainfall go? Will it trickle down to be stored in our root systems for the long summer days to come?
'disorganising is a rare summer that will become only a fond memory ...'
Guling season invites us to tend to the soil and to our systems, to think about what we feed into it (as hungry caterpillars) before chrysalis happens. Rather than a flood that potentially destroys all in its path, trickling asks us to confront and contemplate our relationship with time, each other, fragility, and labour.
---
For disorganising, we were given six months. Beyond the 'project', disorganising has become, in moments of grace, 'a way of living' (Meenakshi Thirukode, disorganising collaborator), with multiple parts of the work trickling through our time together. As we sit and be with the mess, we are also building care practices into the infrastructure: eating together, taking time to consider how seed sharing is a political excerise in knowledge sharing, the building and revealing of the disorganising trolley, reflective writing, and facilitating space for vulnerability and friendship.
The tail end of disorganising finds us preparing for chrysalis,becoming 'soft like ash' (Lana Nguyen, disorganising Producer) and mushy like compost.
Our three organisations and their respective Board Members have been spending time with artist Jack Tan, who works across social, legal and art communities, to imagine the possibility of enacting a quasi-institutional structure, as per the organisations' speculative proposal made at the end of last year. Our initial proposal for working with Jack was a series of roundtable discussions with international organisations and artists, but Jack refused and instead proposed a different, and perhaps more meaningful process; the creation of an artwork that would tease out the contours of the quasi-institution we had speculatively imagined.
As we draw closer to chrysalis, farewelling the full moon, the end of our Producer and Editor's contracts, the change in season, we are deeply curious to see what will blossom in the moments and days and months to come, what follows disorganising.