(CLOSE)
The Crisis of 'Decolonising' the Arts
16 November 2021
Maddee Clark
Note: Parts of this piece are published in an essay I contributed to a book titled Art Writing in Crisis (2021), edited by Brad Haylock and Megan Patty for Sternberg Press. The title was originally something else but was revised to include 'crisis' during 2020 in response to the content that was being produced by the contributors. After working in the arts, I've become curious about these kinds of theatrical and doom-laden questions about the arts being in crisis.
Crisis: When 'the funding' disappears, will the art world still exist?
Crisis: How can we make (a living from) art when participation makes us complicit?
Crisis: How do we decolonise our arts practices?
---
I started working as an editor of un Magazine in 2018 with my best friend, Trawlwoolway poet and artist Neika Lehman. (un Magazine is a print and web-based arts writing publication which is independent and based in Narrm.) Neika and I were the first Blak editors of the magazine, for a one year post, and we came to the editorial with a shared desire to interrogate how our local arts community used the word 'decolonisation' and the broader aestheticisation of anti-racism and decolonisation in curatorship and art. At the time of editing, we also both worked for a university and were always trying to understand, together, what it meant to theorise decolonisation in that place as Blak writers often teaching non-Indigenous people — and what it meant to theorise decolonisation at all. The art world presented us with a way to explore that question further. Decolonisation as metaphor was a complicated idea in the art world, which makes everything into performatives and metaphor, into symbol — even practice, even activism, even praxis.
Our mood board for the first issue of the magazine included two memes from our favourite Indigenous Instagram accounts. The first uses the moment when Regina George, played by Rachel McAdams in the film Mean Girls (2004), calls Cady Heron pretty. When Cady responds with a 'thanks,' Regina George quickly moves to interrogate her: 'So you agree? You think you're really pretty?' In this version, 'pretty' is replaced by 'decolonised'. So you agree? You think you're really decolonised? The second meme, which we published alongside our article, was shared by many of our Instagram mutuals on Invasion Day 2018. The image is a popular template referring to moral panic campaigns about teen sexting, asking instead: 'Is your child texting about decolonisation?' Taking the place of the original texts here — 'So you agree? You think you're really pretty?' and 'Is your child texting about sex' — decolonisation is produced as, alternately, a kind of unforgiveable vanity, or a secretive, alarmist moral crisis. It is also, through the meme format, brought into conversation with the familiar types of visual and cultural rhetoric that make up the social media world.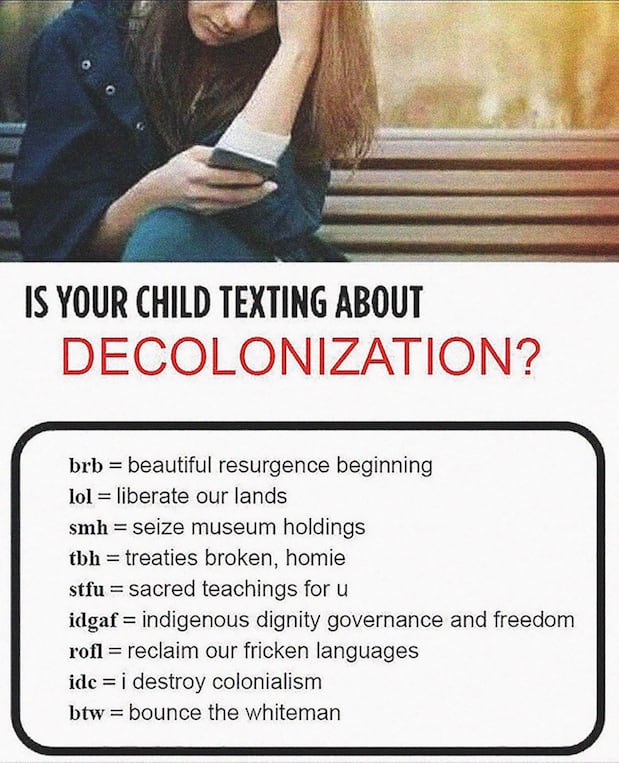 One of the articles from the first issue we edited, by Kate Leah Rendell, notes the influence of the most destructive and socially irresponsible companies on facilitating community arts in Australia. She uses these as examples of how the art world can perform decolonial intent while also existing fully within, and dependent upon, colonial modes of production (money-by-products from the destructive extractive industry). She writes on the participation of resource industries in generating Indigenous arts in the Northern Territory in relation to her own work at the time, the 'wielding of local power that ensures questions of "ethics" remain precarious and each individual is in some way connected or implicated':
One of the prompting questions for this edition of un Magazine was: 'How do we develop practices that bring us into encounters with place?' With [Jacky] Green's work in mind, I would extend this to ask, when brought into these encounters with place, how do we ensure we do not look away from the implications? Green's work Yee-haw, Money Trucks (2017) depicts six figures each riding a large yellow mining truck cutting across Country. In the accompanying text he writes: 'Just like the cowboys scream Yee-haw at the rodeo I imagine the miners riding their trucks across our country screaming, "Yee-haw, I'm rich, fuck you!"' It is a clear and uncompromising indictment of the colonising greed explicit in the continued expansion of the McArthur River Mine in Borroloola. Yet, faced with this work I was also left wondering about the rest of us — perhaps not as euphoric as the miners on their trucks yet nevertheless implicated as beneficiaries of the material consequences of the mine.1
Kate's words encapsulated how the physicality of colonialism, which the arts depend on, goes hand in hand with disingenuous expressions of decoloniality and performances of awareness. Knowing better and not being racist is a form of capital you can buy and sell in the hyper-intellectualised and globally conscious art world — something one achieves through the consumption of diverse arts, culture, and education.
The art world appropriation of Blak aesthetics, lifeways, and languages without proper engagement with Blak people included, for Neika and I, the use of decolonisation as a visual rhetoric and a theoretical signifier. Arts organisations and institutions would utilise decolonisation as a buzzword without interrogating their own deeply held values or developing sincere relationships with First Nations people. It was clear to Neika and I, when we took on the editing position at un Magazine in early 2018, that the sign of decolonisation was being used by the local arts scene as modelling anti-colonial virtue without properly interrogating the origins of colonial wealth, or the material conditions of the art world itself. Our discussion of this in un Magazine 12.1 wasn't intended as criticism of any one person, or even of a wholly articulated art movement — and it wasn't even solely confined to art. We saw traces of a particular discourse on decolonisation everywhere, on social media, in fashion, and in the academy. We also did not exempt ourselves from the critique, even though we were positioned to be lashing out at the white art world. Partially, the magazine was intended to prompt us to probe into our own intellectual, artistic, and writing practices. We reflected on our own habits of using the term. We became obsessed with the tendency for our white artist friends to adorn themselves with decolonial and anti-racist branding: stickers, t-shirts, tote bags, hashtags. One tote bag designed for sale as merch accompanying Queensland First Nations artist Tracey Moffatt's show at the 2017 Venice Biennale featured the phrases 'Indigenous Rights' and 'Refugee Rights' in block lettering on alternate sides, so wearers could rotate the bag depending on their moods. We would get a thrill whenever we would see a white person wearing it at the book fair, at ACCA, at the Sydney Harbour Bridge. A white friend bragged about how they were singled out by ticket inspectors on the train while wearing a DECOLONISE NOW t-shirt, producing the experience of public racialisation as a badge of honour that can be purchased. An exhibition in early 2018 at Plimsoll Gallery in Hobart by a white curator claimed to be generating a 'decolonial geographic', which was presented through a critique of landscape painting. No Indigenous nations, decolonial movements, or even individual thinkers from Australia were referred to.
---
These examples presented, to us, an image of decolonial theory in the art world as profoundly depoliticised, disconnected, and surface level. It was a scenario that felt increasingly close to branding. Alex Wilson from the Opaskwayak Cree Nation in Manitoba, Canada, has expressed similar sentiments, writing that 'it feels like the term has become a catchphrase. I see decolonization stickers on people's computers and there's an irony in that — a sign that our movement has been branded'. She writes on the tendency for younger Indigenous people to overlook land-based solutions in favour of surface-level cultural expressions, noting:
I avoid using it [decolonisation] because I do not think we (or our struggles) should be defined by colonization. I am Nehinuw (Cree) and our people, like all Indigenous peoples or people of any culture, have a worldview that, over time, has not changed in some aspects and has changed significantly in other aspects … If we describe ourselves as 'decolonizers', it implies that colonization is what defines us, but my people were Cree before the colonizers arrived. While we have been impacted by colonization, our Cree identity and worldview have survived and have persisted. I rarely use the term decolonization because it gives colonization power. It also assumes that we do not change as Indigenous people, and we have always been changing … What's visible is far less important or substantial than the 90% of the iceberg that is beneath the surface of the water … Many Indigenous people recognize that decolonization requires repairing that damage and restoring the relationships between our visible and material culture and the deep knowledge, value systems, philosophies, cosmologies and other invisible aspects of our cultures. I do not think you can do that without land-based knowledge. 2
Decolonisation as a descriptor for Wilson functions as a form of entrapment, positioning Indigenous practice through its resistance to colonialism rather than as a form of autonomous life. She understands the current ways that decolonial theory is utilised to be overly attentive to colonialism as the primary, generative force which Indigenous people have a relationship to, locating Indigenous nations continually in the position of struggle and leaving little room for other readings. She notes that her own reasoning for not using the term, though it is useful and valuable as a descriptor for action, is because it defines Indigenous lives and practices primarily through their relationship to colonialism.
The production of the un Magazine issue on decolonisation drove more offers of partnership on projects with decolonial themes our way. Months after our first edition was published, Neika and I were at an exhibition opening where a white curator who was head of an artist run initiative at the time approached us to demand that we both join her organisation's board. She told us she wanted to decolonise it. We were silent. She hugged us, and we left. Later, we received a request from her to attend an event she was running. This event proposed that we would be seated in a circle, on the floor, to 'decolonise' the space by complicating the usual expectations of panel discussion.
These 'decolonial moments' continued. They coincided with a few other moments of crisis and serious conversations about funding and the sustainability of arts practice in an increasingly neoliberal and competitive funding climate — 'In our time of crisis …'.
For as long as I've been involved in the white art world, it's been in varying forms of crisis. In response, it attempts to collectivise, to establish different forms of self-sustaining 'ecologies' that mimic and perform community. This emerges in smaller scale actions, like the curator who wanted us to sit on the floor to construct a sense of non-hierarchical discussion. It emerges in the sporadic attempts of graduate students from elite universities to create so-called alternative economies in an attempt to subvert capitalist influence on art and culture. Stay in Narrm long enough and you'll be confronted with one of them offering their art works as a gift in exchange for other kinds of labour. Sometimes, a community arts space or artist run initiative will experiment with allowing themselves to be deconstructed, as happened in the 2019 temporary occupation of West Space by this mob. The occupation prompted Andy Butler to comment: 'We're at an interesting time when the sorts of artistic institutions that have driven people to collectivise are now scrambling to work with them.' 3
---
Wiradjuri writer Jeanine Leane shares with me her belief that Gough Whitlam established the Australia Council for the Arts (AusCo) in order to fund Xavier Herbert's Poor Fellow My Country (1975). I'm still sitting with this piece of information. The Herbert work is considered one of the 'great Australian novels', but its representations of Aboriginal people are loaded with paternalistic colonial baggage. Still, it is regarded by white readers as a sympathetic and even critical text by a white man who has been described as a 'champion' of Aboriginal people. Having never engaged with it before, I'm suddenly fascinated by the role of the Council as an enabler of a work that still holds a reputation as a critical, even radical, piece.
Months later, I hear one of AusCo's more recent employees describe the Council's role as sustaining an arts 'ecology', and it all feels connected. The thought occurs to me that in performances of crisis, precarity, and collectivising, artists enact the very behaviours that the funding bodies and institutions hope we will, rather than meaningfully re-imagining the arts as an egalitarian and economically radical community. In this context, settler performances of decolonisation can be seen as a natural extension of the flow of capital through the arts ecology that funding bodies generate and encourage.
I realise that on some level I still, quietly, believe that funding kills creativity. That suffering and discomfort are necessary to do good work. That now, settler artists are able to make their great artworks about the state of precarity and angst that they're kept in, and that maybe this isn't so bad, because it gives their work some sense of meaning.
Neika shares a story with me, of being on a farm in rural Lutriwita, and a conservative Blak man telling them that art grants money is just 'the dole but for city people'. We laugh. We go to class and Neika puts up on the slideshow for our students an image of the French West Indian philosopher Frantz Fanon. A quote attributed to him is scrawled across it in brush script: 'Imperialism leaves behind germs of rot which we must clinically detect and remove from our land but from our minds as well.' Our students take photos.
Kate Leah Rendell, 'An unsettled Settler response to Open Cut,' un Magazine, vol. 12.1 (2018): unprojects.org.au/article/an-unsettled-settler-response-to-open-cut/. ↩
Alex Wilson (Opaskwayak Cree Nation) with Marie Laing (Kanyen'kehá:ka), 'Queering Indigenous Education,' in Indigenous and Decolonizing Studies in Education, eds. Linda Tuhiwai Smith, Eve Tuck and K. Wayne Yang (New York: Routledge, 2018), 135, 136. ↩
Andy Butler, 'this mob at West Space,' The Saturday Paper, 10 – 16 August, 2019, thesaturdaypaper.com.au/2019/08/10/this-mob-west-space/15653592008590. ↩
Maddee Clark is a Yugambeh writer, editor, and curator living in Narrm. He has been published by Sydney Review of Books, SBS, ABC, Overland, Artlink, Next Wave, and NITV, and has edited for publications such as Un Magazine, Archer, and Liminal Magazine.